ThunderJet Alexis Pro 22-24 Boat for Sale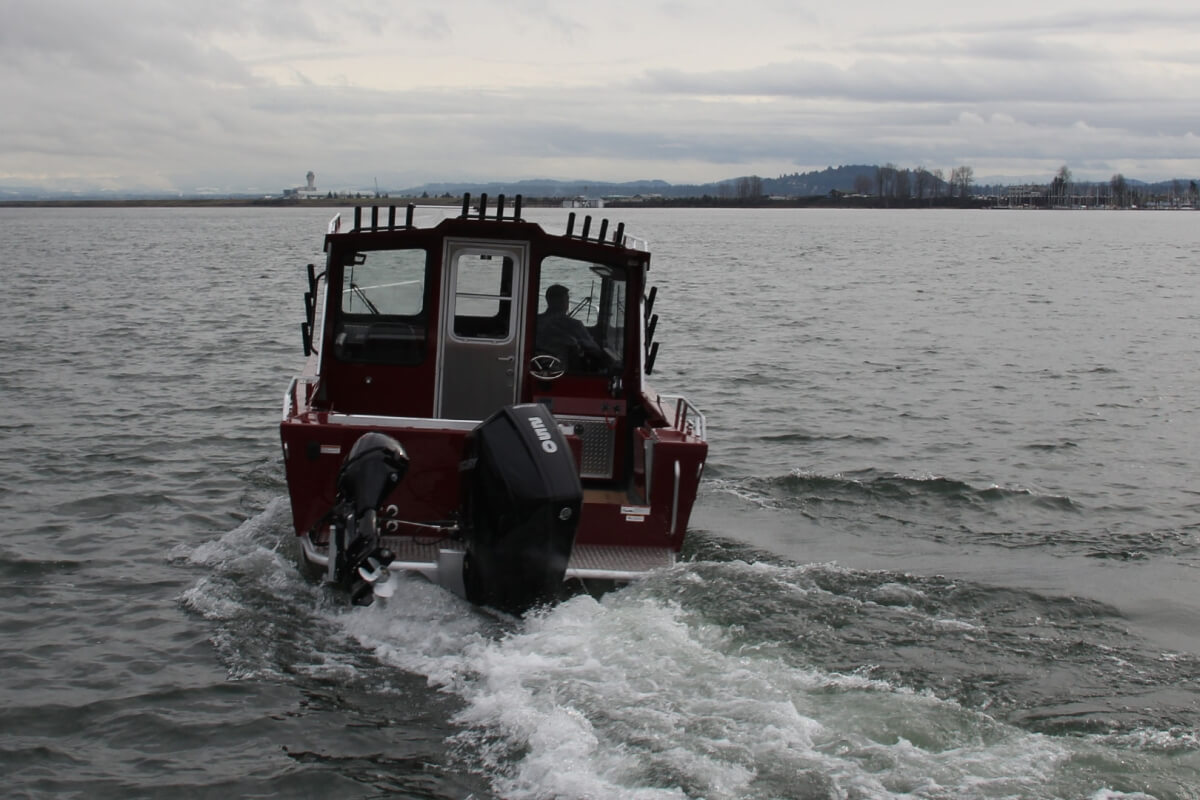 Select from 9 optional colors!
INQUIRE TO GET ON THE LIST
call for price
Model: 22 - 24 Alexis Pro
Availability: Call for availability
Model Year: 2023
Hull Length: 22-24'
Condition: New
Trailer Status: included
Horsepower: 250 - 300 HP
Item#: T22-24APR
Location: Port Alberni, BC Canada
Thunder Jet Alexis Pro 22-24 – For an Excellent Trolling Power
Powerful built. Stunning looks. Loaded with many features. These Thunder Jet vessels are ideal for Canadian water conditions. The Alexis 22 and Alexis 24 have optimized hull designs with a complete hardtop that keeps you dry while sport fishing in any weather environment. Best suited for the conditions of the Pacific Northwest, this excellent boat range comes with a whole load of attributes that every type of angler wishes for.
Base Specifications
Both variants have standard specifications like 102" beam width, 16° hull deadrise, 100 USG fuel capacity, 74.5" interior hardtop height, 88" chine width, and 29.5" cockpit depth. The 22 Alexis Pro has an 8-person capacity, while the 24 Alexis Pro can accommodate ten passengers. Both vessels have a maximum horsepower range of 350 HP.
Alaskan Bulkhead Package (Optional)
Unlike the other standard bulkheads, the Alaskan Bulkhead closes off the front and rear parts of the cabin. It means you get protection against cold & wind in harsh environmental conditions. The Alaskan bulkhead package covers a swing door, vinyl-covered aluminum transom board, a non-skid, painted aluminum flooring, and a fuel capacity upgrade.

.250" Bottom / 5086 Marine Alloy (Recommended Upgrade)
This upgraded material provides a more sustainable and heavier bottom to the Thunder Jet Alexis Pro 24 and 22. It offers durability for your beloved vessel. Due to the heftier base, your boat will easily cut through the big waves.
Aluminum Self Bailing Deck (Recommended Upgrade)
Who doesn't want their deck to get drained overboard? The securely welded self-bailing deck makes cleaning much easier and more convenient. And that too without using the bilge pumps! Peace of mind.
Extended Running Surface (Recommended Upgrade)
On the Alexis Pro, you will feel a fishing trip like a day cruise. The hull utilizes a long-running surface that offers excellent stability and manoeuvrability in any water condition.
Shockwave S5 Seats (Recommended Upgrade)
The Shockwave S5 has revolutionized the suspension feature in the boating market. It gives you better protection from the shock of the wave impacts. Various pressure settings and the three-shock compression adjustments offer an unmatched offshore experience. As a result, you get comfortable seating for your back and an enjoyable ride every time you go fishing on the Alexis Pro boat.
150 USG Fuel Tank (Upgrade)
Do you have a plan for an extended fishing trip but are worried about your boat's fuel storage capacity? This 150 USG fuel tank is the solution. Alexis 22 and Alexis 24 have 100 USG fuel tank capacity, which you can upgrade with this option. Made with advanced technology and certified to meet the industry regulations, it gives the required quick connect fuel supply to get swift speed on the ocean water.
Best In Class Propulsion System
We recommend powering the 24 Alexis Pro with the robust, reliable and efficient Mercury FourStroke V8 300XL FourStroke + an optional Mercury 15HP ProKicker. You can power the Thunder Jet 22 Alexis Pro with Mercury 250 XL DTS V8 FourStroke and an optional Mercury 15 EXLPT Pro Kicker FourStroke engine. These boat motors are claimed to be the lightest and smallest in their respective categories. It means you get an unsurpassed output in a smaller, versatile package.
9 Optional Colors – It's Up To You
How exciting is getting your favorite vessel in your preferred choice of color? We have covered the most standard and popular colors that suit your personality and liking. The Premium Metallic Colors are Garnet Red, Denim, and Jet Black. While the standard color options include Firecracker Red, Merlot, Navy Blue, Snow White, Gloss Black, and Slate Gray. Check them out and decide about your color palette.
Apart from this, you get many standard hull, rigging, and interior features with the Thunder Jet Alexis 22-24 for sale in BC. Our team will also recommend you the best & recommended factory options and additional marine electronics, equipment, & custom rigging. Connect with us or visit our Port Alberni boat showroom to get more understanding.
Note: Specifications may vary and are subject to change. Please call us for details.
Select from 9 optional colors!
INQUIRE TO GET ON THE LIST
call for price
Model: 22 - 24 Alexis Pro
Availability: Call for availability
Model Year: 2023
Condition: New
Item#: T22-24APR
Location: Port Alberni, BC Canada
Request a Quote
Aluminum Boats
Thunder Jet
22 - 24 Alexis Pro
Important Sales Note
Boats: Cross Border Shipping Service for the US available.
Alberni Power & Marine - RPM Group

Province: British Columbia
3170 1st Ave N, Port Alberni V9Y 4C2
Phone: + 1 250-724-5722
Request By Phone
Aluminum Boats
Thunder Jet
22 - 24 Alexis Pro
Important Sales Note
Boats: Cross Border Shipping Service for the US available.
Alberni Power & Marine - RPM Group

Province: British Columbia
3170 1st Ave N, Port Alberni V9Y 4C2
Phone: + 1 250-724-5722