2023
Liquid Metal
33 Salish Cabin Cruiser
Model: 33 Salish Cabin Cruiser
Availability: In stock
Model Year: 2023
Hull Length: 33'
Condition: New
Horsepower: 1200 HP
Item#: LQM-SAL33
Location: Port Alberni, BC Canada
Go faster and farther, with more efficient fuel consumption, more comfort, and more time for fishing
Imagine there is a boat that empowers you to have more time to catch fish at your favourite spot. What if it allows you to go faster and farther offshore on the ocean than usual and capture a record tuna while having less possible fuel consumption when you drive back home and giving all the comfort to your friends and family?
There is a boat that incorporates all such attributes.
The Salish 33 Cabin Cruiser for sale in Port Alberni, BC, offers you the comfort, durability, and safety you would want while going on the water. Designed by Naval Architect Gregory C. Marshall, this vessel from Liquid Metal Marine has exceptional quality, appearance, and performance in the 33' boat category.
This Cabin Cruiser has unmatched features to make your boating and fishing trips like nothing compared to a sport fishing boat. The Salish 33 has a marine-grade aluminum-made hull bottom (0.250" 5086 aluminum alloy) and side plates (0.187" 5086 aluminum alloy). Its Deep Vee reverse-chine hull boasts an outboard bracket for twin engines. Besides, you get sensational acceleration with faster hole shots and exceptional torque with two 600XXL V12 Verado outboards.
The hull also has transverse and longitudinal framing, which makes the boat highly resistant to stressful situations on and off the water.
Welded aluminum floors with non-skid decking and self bailing decks with extra large openings are only a few standard features for a feel-good exterior finish.
The Salish Cuddy Cabin boat comes inside with a v-berth, headliner and upholstery, side trays, and Lewmar access hatch on a cuddy top with spray foam insulation. You can convert the dinette, galley, and head options into a sleeping area.
The forward or aft-leaning cabin has Zolatone interior paint. Other features in the cabin design include a 3-piece heated windshield, forward-side windows, 6' 6" high cabin headroom on the centerline, interior & exterior grab rails, and more.
This amazingly fast aluminum boat runs almost 20% faster than similar vessels with triple 300HP V8 outboards and saves nearly one hour on a 60-mile-way while still using less fuel. It means it offers two more hours for fishing. And the new V12 autopilot lets you relax more than any other autopilot system, even when you drive faster than usual.
When you purchase the Liquid Metal Salish 33 Cabin Cruiser from us, you get the quality of service from our experienced, professional team that is committed to meeting & exceeding our customer's expectations. If you have any questions about this cabin cruiser, please do not hesitate to contact us.
Length Over All - LOA
35' 11"
33 Salish Walkthrough Video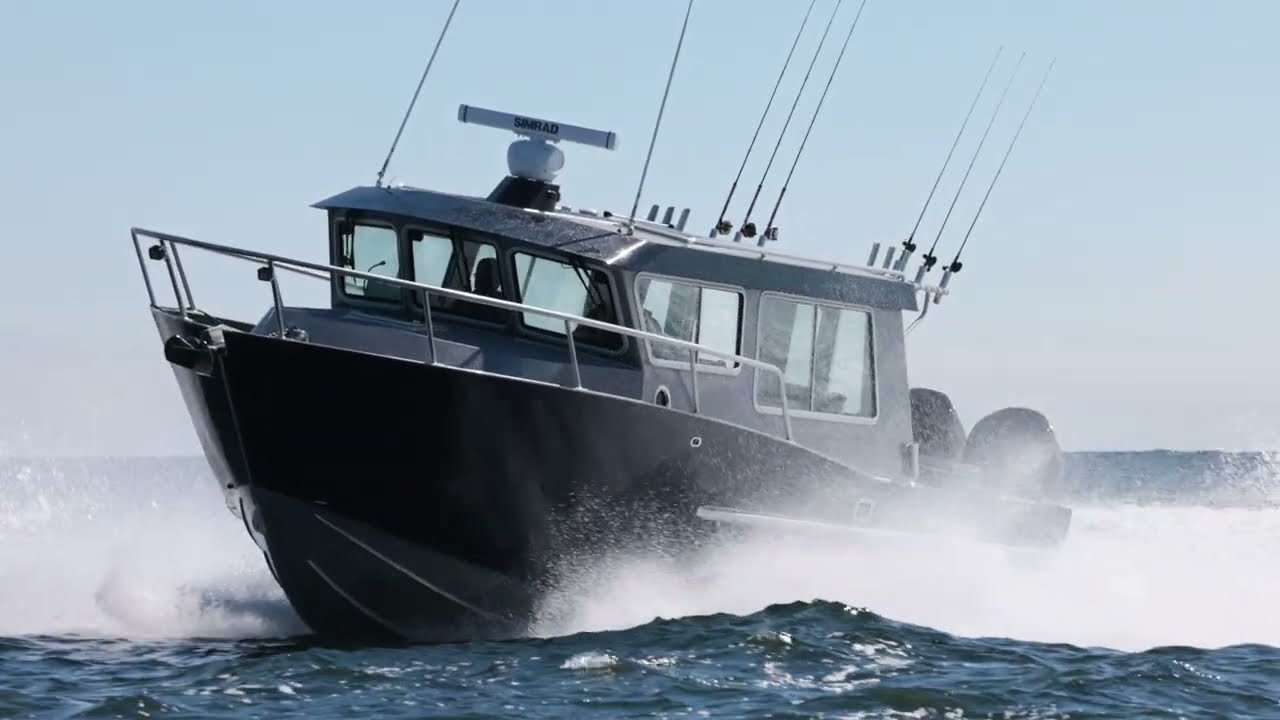 Model: 33 Salish Cabin Cruiser
Availability: In stock
Model Year: 2023
Condition: New
Item#: LQM-SAL33
Location: Port Alberni, BC Canada
Similar items
Availability: Ready to Order
Request a Quote
Aluminum Boats
Liquid Metal
33 Salish Cabin Cruiser
Important Sales Note
Boats: Cross Border Shipping Service for the US available.
Alberni Power & Marine - RPM Group

Province: British Columbia
3170 1st Ave N, Port Alberni V9Y 4C2
Phone: + 1 250-724-5722
Request By Phone
Aluminum Boats
Liquid Metal
33 Salish Cabin Cruiser
Important Sales Note
Boats: Cross Border Shipping Service for the US available.
Alberni Power & Marine - RPM Group

Province: British Columbia
3170 1st Ave N, Port Alberni V9Y 4C2
Phone: + 1 250-724-5722